Phoenix I has been nominated for the prestigious award: BNA Best Building of the Year!
From all 103 entries, the jury made a selection of ten projects, which they believe stand out not only in terms of aesthetics and quality, but also demonstrate the added value of architecture for people and society at large.
Phoenix I shares its place in the Livability & Social Cohesion category with Forum Groningen and Domusdela in Eindhoven. The Tiny Holiday Home on the Vinkeveense Plassen and the House with Tail in Soesterberg are in the category Private Living Experience. Stimulating environments include the expansion of the Rietveld Academy in Amsterdam and the Werkspoorfabriek in Utrecht, which has been converted into a multi-company building. The Hoge Veluwe Park Pavilion, the Naturalis museum in Leiden and the Tij bird observatory near Stellendam all fall into the category Identity & icon value.
Rightly noted by De Volkskrant, Phoenix I is remarkably the only serial housing project that has been nominated, while the rising housing shortage is a major problem. Phoenix I tackles a social problem with both hands, with respect for the history of the place and space for culture and recreation. By building the 212 lofts on top of the old shed, the different time layers remain clearly visible, so that the history of the building remains alive. The addition of a public passageway and active plinth fulfils a strong social function in stimulating meetings between (neighbourhood) residents and visitors.
We are flattered with the nomination and look forward to the results with enthusiasm. The winner of the jury prize will be announced on 22 October. A public prize will also be awarded. Do you agree that Phoenix I offers the most added value for people and society? Cast your vote via this link.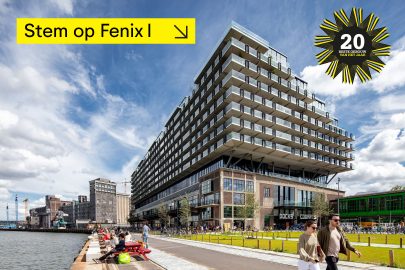 http://Vote for Phoenix I: BNA Best Building of the Year 2020